Industrial Adaptor Kit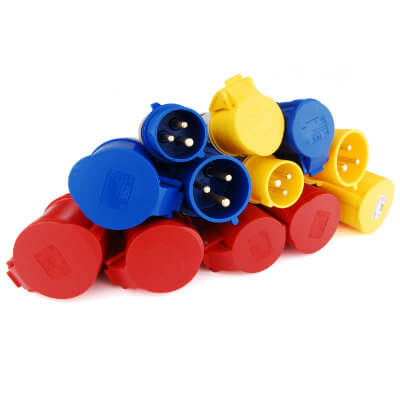 £192.00
Inc VAT
£160.00Exc VAT
Adapter set for testing 230V, 110V, and 3-phase appliances and extension leads with 16A and 32A industrial connectors. This industrial adapter set is suitable for use with all PAT instruments that have a standard 13A socket and IEC extension lead connector.
This kit contains our complete range of 12 industrial PAT adapters: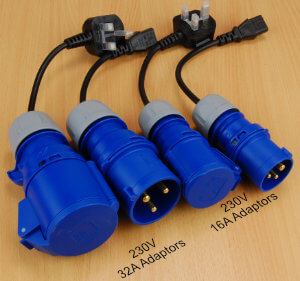 The blue colour coding is designated for equipment operating at voltages between 200 and 250V. Blue industrial connectors are commonly used in factories, workshops, agriculture, theatres, and the event industry. Industrial connectors are also widely used for outdoor power applications where protection against the elements is required, such as in the marine and leisure industries.
230V 16A Appliance Adaptor
230V 16A Extension Lead Adaptor
230V 32A Appliance Adaptor
230V 32A Extension Lead Adaptor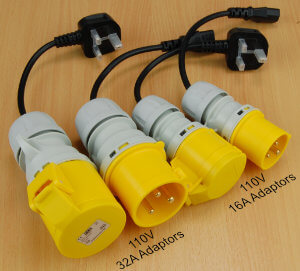 Yellow industrial plugs and sockets are typically used for 110V power tools and other electrical equipment on construction sites in the UK. 110V transformers have a split phase with a line to earth voltage of just 55V. This reduced voltage is significantly safer than the standard 230V mains supply.
110V 16A Appliance Adaptor
110V 16A Extension Lead Adaptor
110V 32A Appliance Adaptor
110V 32A Extension Lead Adaptor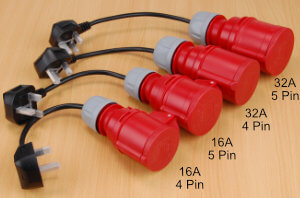 Three-phase power is often used for industrial machinery. 3 Phase equipment may be wired in two different configurations, either star or delta. A delta configuration does not require a neutral conductor, so can use a 4 pin plug (3 phase + earth). A star configuration is wired with a neutral conductor and will therefore require a 5 pin plug (3 phase + neutral + earth).
3-Phase 16A 4-Pin Appliance Adaptor
3-Phase 16A 5-Pin Appliance Adaptor
3-Phase 32A 4-Pin Appliance Adaptor
3-Phase 32A 5-Pin Appliance Adaptor
These types of industrial connectors are based on the EN 60309 product standard. They are sometimes known as 'Ceeform' connectors. Ceeform is an abbreviation of Certification of Electrotechnical Equipment, which published the previous standard for industrial connectors, CEE 7. There was also an equivalent previous British Standard for this type of industrial connector, BS4343. Both of these standards have now been replaced by EN 60309.
MK Electric have sold industrial connectors under the brand name 'Commando' for many years, so the term 'Commando' is also often used in the UK as a generic name for all EN 60309 connectors.
These adaptors are constructed with BS EN 60309 industrial connectors made by PCE, a leading manufacturer of high quality connectors based in Austria: PC Electric GesmbH