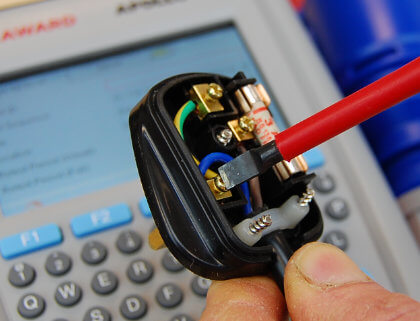 Solihull, West Midlands
1 Day (9am to 4pm)
£234.00 (£195 +VAT)
Held at the Conference Centre at Solihull College, close to Birmingham. The Competent Person course for PAT testing is based around the IET Code of Practice for In-Service Inspection and Testing. The course provides students with the necessary practical skills and technical knowledge needed to be a competent person for PAT testing. We focus on hands-on learning and make use of practical examples wherever possible to cover the syllabus. We deliberately keep our class sizes small, maximum 8 people, allowing students to ask questions and receive individual guidance from our experienced instructors. Following the course, students will be able to inspect and test all electrical equipment commonly found in the workplace, from office equipment to power tools.
Students will receive a certificate of competence upon successful completion of a practical assessment. We also provide a comprehensive PAT training manual and students will have access to our technical helpline for advice and guidance following the course.
This course is suitable for anyone looking to carry out the inspection and testing of electrical equipment within the workplace. No previous electrical experience or qualifications are required, however we do recommend reading through our training manual before attending.
If you have a number of people to train, we can also offer this as an onsite training course at your site.
Course Date
Venue
Price
Places
19 July

2022

Birmingham
£234.00

(£195 +VAT)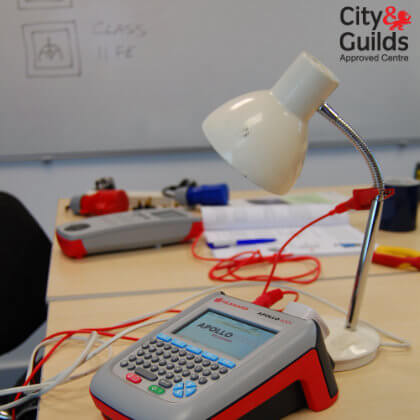 Solihull, West Midlands
2 Days (9am to 4pm)
£390.00 (£325 +VAT)
The City & Guilds course is primarily aimed at those looking to carry out the inspection and testing as a service and require the City & Guilds 2377 qualification to join a professional membership association, such as NICEIC.
The course is run over two days and combines both practical and theory elements to cover the City & Guilds syllabus. The assessment is comprised of two elements, a practical assignment (Unit 702) and a 1 hour 45 minute exam (Unit 701). Upon successful completion, candidates will gain the City & Guilds 2377-77 qualification.
There are no formal entry requirements for this qualification, however the course assumes that those attending have a good understanding of basic electrical principles. Candidates must also have a copy of the IET Code of Practice for In-Service Inspection and Testing of Electrical Equipment 5th edition. We provide a Plugtest training manual and practice mock exams that can be accessed via the course account to study before attending.
Venue: Birmingham
Price: £390.00 (£325 +VAT)