Training at Your Site
Our on-site courses allows us to tailor the course content to meet your own particular requirements and also offer practical advice specific to your workplace.
We bring everything needed for the course, including sample test equipment. However we can often make the course more relevant by demonstrating the testing using your own equipment. Our trainers have a wide knowledge of most test instruments and can demonstrate various types and offer unbiased advice on the most suitable for your requirements. If you already have your own test equipment, we can use this for the training. We advise on a maximum class size of 8 people, to ensure that all students receive ample one to one training time. As well as being convenient, in-house training often works out the best value option if you have a number of people to train.
PAT Competent Person Course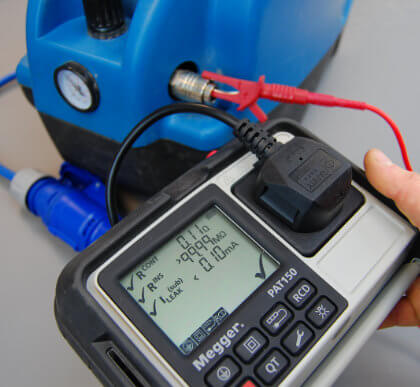 Our on-site PAT Competent Person course is based around the IET Code of Practice, 5th edition, and is suitable for companies and organisations looking to carry out PAT testing in-house. The course is designed to provide technical knowledge and practical skills required to be competent to carry out PAT testing.
We try to make the training as practical as possible with the emphasis on hands on learning. Delegates will receive a certificate of competence upon completion of a practical assessment where they will need to demonstrate their ability to carry out the inspection and testing on a variety of electrical appliances. Delegates do not need to have any previous electrical experience or qualifications to attend this course.
City & Guilds Qualification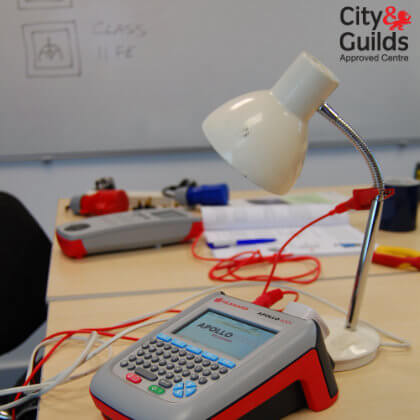 Our two day City & Guilds course is designed for delegates looking to gain a recognised qualification. The C&G 2377-77 level 3 award for the In-Service Inspection and Testing of Electrical Equipment, is a nationally recognised qualification for those undertaking PAT testing.
Although there is no legal requirement for this qualification, we recommend having the City and Guilds qualification if you are looking to offer the inspection and testing as a service to other companies.
The course is run over two days and combines both practical and theory elements to cover the City & Guilds syllabus. The assessment is comprised of two elements, a practical assignment and a 1 hour 45 minute exam. Upon successful completion, candidates will gain the City & Guilds 2377-77 qualification.
There are no formal entry requirements for this qualification, however we recommend those attending have a good understanding of basic electrical principles.
Safe Isolation Course

Our onsite safe isolation course covers the safe systems of work and procedures for identifying, isolating, proving dead and locking-off electrical circuits for maintenance or repair. The Electricity at Work Regulations requires the isolation of electrical equipment before installation or maintenance is carried out. It is essential that anyone working with electrical equipment is competent in safe isolation procedures. Our safe isolation course is manly aimed at non-electrical trades such as maintenance staff, HVAC engineers and alarm installers, that need to isolate electrical circuits for installation, maintenance or repair. It is also suitable those undertaking the inspection and testing on fixed electrical equipment.
The course is run as a half day practical workshop and covers the legal requirements, safety awareness, documentation requirements, test equipment, isolation procedures and locking off methods. We bring everything needed to run the course including training rigs and a variety of test equipment and locking off devices. Students will receive a certificate of competence following a practical assessment where they will be required to demonstrate that they can safely and effectively isolate and reconnect an electrical circuit.