Plugtop Fuse Pack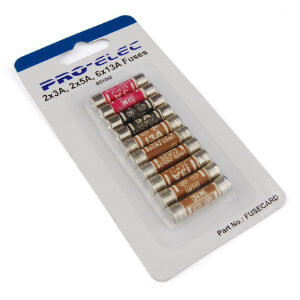 £3.00
Inc VAT
£2.50Exc VAT
Pack of 10 BS 1362 fuses. BS 1362 is the British Standard for the fuses fitted within the standard 13A plug.
Pack includes:
6 X 13A Fuse
2 X 5A Fuse
2 X 3A Fuse
The purpose of the fuse is to protect the cable from overheating. It is essentially a weak link designed to blow and cut off the electricity supply if the current flowing through the cable is too high. The current rating of the fuse therefore needs to be suitable for the size of the cable.
The fuse should only replaced with one of the same value that has been fitted by the manufacturer. As a general rule, appliances rated up to 700W are fitted with a 3amp fuse, and appliances with a power rating more than 700W have a 13amp fuse fitted. Most manufacturers have standardised on using just 3A or 13A fuses, however other sizes are also available. For example, 5A fuses are often used for detachable IEC leads supplying IET equipment. For easy identification, 3A fuses are coloured red and 13A fuses are coloured brown. All other sizes are coloured black.
We also have an article with further information on selecting the correct fuse size.
The British Standard, BS 1362, specifies how the fuse should be constructed and also the information that must be marked on them. Each fuse must be marked with:
The manufacturer's name or identifying mark
The British Standard number - BS 1362
The rated current
An approval mark, ASTA, BSI or Nemko