3-Phase Adaptor Kit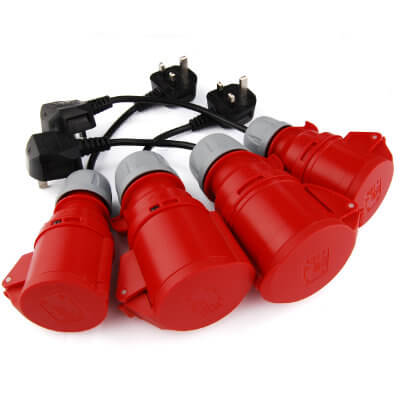 £96.00
Inc VAT
£80.00Exc VAT
Industrial adapter set for PAT testing 3 phase equipment fitted with either 4pin or 5 pin, 32A or 16A, red plugs.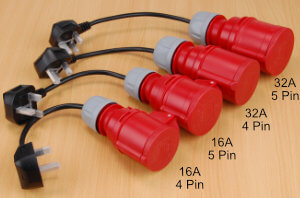 3-Phase 16A, 4-Pin PAT Adaptor
3-Phase 16A, 5-Pin PAT Adaptor
3-Phase 32A, 4-Pin PAT Adaptor
3-Phase 32A, 5-Pin PAT Adaptor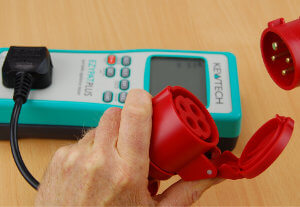 Suitable for use with all PAT testers that have a standard 13A socket. Three phase equipment can be tested for earth continuity and insulation resistance using this adapter, but most test instruments are unable to carry out a 3-phase leakage, load or polarity test.
Three-phase power is often used for industrial machinery. 3 Phase equipment may be wired in two different configurations, either star or delta. A delta configuration does not require a neutral conductor, so can use a 4 pin plug (3 phases + earth). A star configuration, also called a Wye or Y configuration, is usually wired with a neutral conductor and will therefore require a 5 pin plug (3 phases + neutral + earth). Three-phase connectors are available in 16A, 32A, 63A and 125A sizes, but 16A and 32A are the most often encountered whilst PAT testing.
These adaptors are constructed with BS EN 60309 industrial connectors made by PCE, a leading manufacturer of high quality connectors based in Austria.
Please note, these adaptors are intended for electrical testing use only. They can not be used to power 3-phase equipment from a single phase, 230V supply.