Plugtest PAT Testing Courses
Plugtest is a specialist PAT training company. We offer a range of PAT testing courses designed to provide you with the practical skills and technical knowledge essential for portable appliance testing. Whether you are a company looking to carry out your testing in-house, or an individual looking for new skills or a career change, we have a course to suit you.
Competent Person Course
£234.00 (£195 +VAT)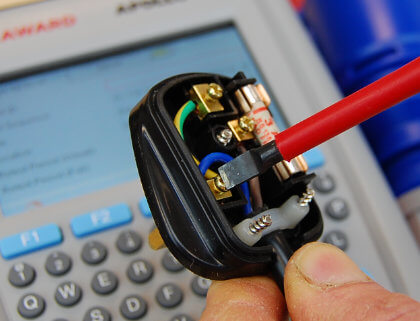 Our Competent Person PAT testing course is based around the IET Code of Practice for In-Service Inspection and Testing. The course provides students with the necessary practical skills and technical knowledge needed to be a competent person for PAT testing. We focus on hands-on learning and make use of practical examples wherever possible to cover the syllabus. We deliberately keep our class sizes small, maximum 8 people, allowing students to ask questions and receive individual guidance from our experienced instructors. Following the course, students will be able to inspect and test all electrical equipment commonly found in the workplace, from office equipment to power tools.
Students will receive a certificate of competence upon successful completion of a practical assessment. We provide a variety of test instruments for use during the course, but students are also welcome to bring their own test equipment to use. Each student receives a comprehensive PAT training manual and access to our technical helpline for advice and guidance following the course. This course is suitable for anyone looking to carry out the inspection and testing of electrical equipment within the workplace. No previous electrical experience or qualifications are required. If you have a number of people to train, we can also offer this as an onsite training course at your site.
City & Guilds 2377 Qualification
£390.00 (£325 +VAT)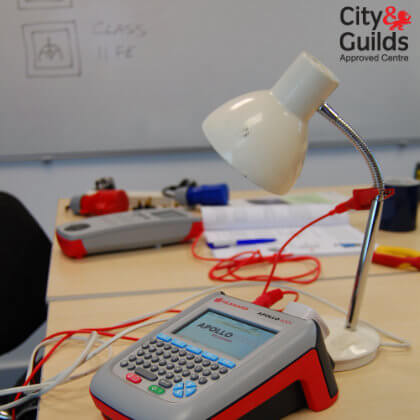 City & Guilds 2377-77 is a recognised qualification for PAT testing. This qualification is not a legal requirement and is primarily aimed at those already working within the electrical industry looking to progress their career, or those looking to start a business in electrical equipment maintenance and testing.
The C&ampG PAT testing course is run over two days and combines both practical and theory elements to cover the City & Guilds 2377-77 syllabus. The assessment is comprised of two elements, a practical assignment (Unit 702) and a 1 hour 45 minute multiple choice online exam (Unit 701). Upon successful completion, candidates will gain the City & Guilds 2377-77 qualification.
There are no formal entry requirements for this qualification; however, the course assumes that those attending have a good understanding of basic electrical principles. Candidates must also have a copy of the IET Code of Practice for In-Service Inspection and Testing of Electrical Equipment 5th edition. We provide a training manual and practice mock exams that can be accessed via the course account to study before attending.
At Your Site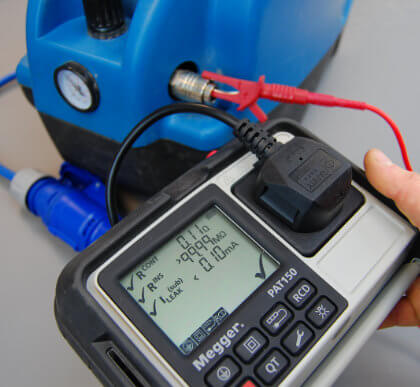 We can also bring the training to you anywhere in the UK. The onsite training allows us to tailor the course content to meet your requirements and offer practical advice specific to your workplace. As well as being convenient, our onsite training often works out as the best value option if you have several people to train.
Onsite Courses ❯
FAQs
Who can carry out PAT testing?
The regulations require the person doing the inspection and testing is trained and competent. Our PAT testing courses provide the necessary technical knowledge and practical skills required to be competent.
View more FAQs ❯
Customer Reviews
"Great course. I definitely recommend Plugtest to anyone looking for a PAT testing course. Rob is a great instructor, very knowledgeable and explains things clearly, and is not rushed so we could all understand."
Course Reviews ❯
★★★★★
Contact Us
If you have any questions or just need some more information, please get in touch.
Contact Us ❯
Why Choose Plugtest
Knowledgeable and experienced training staff

Small class sizes, maximum 8 delegates

Hands-on practical training

Telephone support service following the training

Training manuals provided to all delegates

Pre course study material available