What are all the conformity marks on my laptop charger?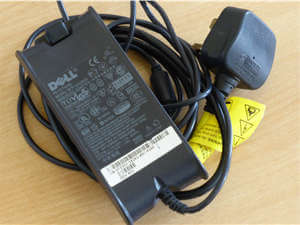 Conformity marking is mandatory on electrical appliances in many countries. These symbols indicate that a product complies with a specific standard.
This laptop charger has a confusing array of 20 certification, conformity, and approval marks crammed on the back, so what are they all?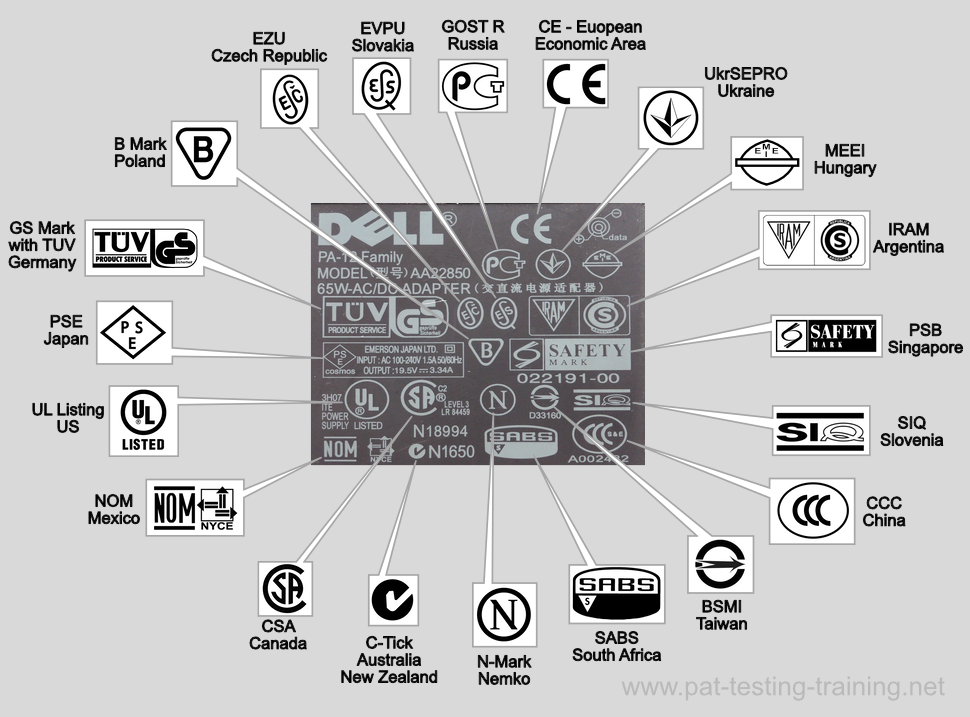 | | | |
| --- | --- | --- |
| | Russian Federation | GOST - R certification scheme is mandatory on many products. It incorporates more than 1100 certification bodies and about 2500 test laboratories. |
| | European Economic Area | The CE marking is mandatory on electrical products sold within the European Economic Area. The CE logo indicates that the manufacturer or importer/distributer has made a Declaration of Conformity that the product meets CE standards. Unlike many other certification schemes, the CE mark does not require independent testing. |
| | Ukraine | A UkrSepro certificate is mandatory for exporting and distributing certain products in Ukraine. There is also a voluntary certificate scheme for imported goods. In most cases a UkrSepro certificate will require sample testing of products. |
| | Hungary | MEEI is an electrical testing laboratory in Budapest. It has now been taken over by TÜV Rheinland. |
| | Argentina | S-Mark is the regulatory approval safety mark for Argentina and IRAM is the official national standards body. Electrical products are required to be safety certified under IRAM or IEC standards. Most products require type testing and market sampling, some may also require factory inspections. |
| | Singapore | Singapore Productivity and Standards Board (PSB) is the national agency for productivity and standards. A PSB certificate requires product testing and is mandatory for both locally made and imported electrical equipment. The 8 digit certificate number should be displayed under the logo. |
| | Slovenia | Slovenian Institute of Quality and Metrology(SIQ) is an independent product testing and certification organisation. SIQ provides electrical safety testing, assessment, certification, and inspection services |
| | China | First introduced in 2002, the China Compulsory Certificate mark (CCC mark) is compulsory for electrical products imported, sold and used in the Chinese market. The certification process requires type testing by a designated test laboratory as well as factory inspections. |
| | Taiwan | The Bureau of Standards, Metrology and Inspection (BSMI), is the authority responsible for standards as well as for conformity assessment in Taiwan. The standards are based on international standards such as ISO and IEC. To achieve BSMI safety certification electrical products must be type tested. The BSMI logo requires the first seven letters of the certificate number to also be displayed. |
| | South Africa | The South African Bureau of Standards (SABS) is the national standardisation institution in South Africa. SABS certification requires factory audits and product testing along with regular testing of product samples. |
| | | The N mark is issued by Nemko. Nemko is an independent test and certification body for electrical and electronic products. Certification requires type testing to relevant standards to ensure protection from mechanical injury, burns and electric shock. In addition, annual factory inspections are also required. |
| | Australia & New Zealand | The C-Tick mark was replaced in 2013 by the RCM mark. See below |
| | Australia & New Zealand | Regulatory Compliance Mark (RCM) is part of the Electrical Equipment Safety System and requires suppliers to register their details on a national database. Suppliers must also make a declaration that the equipment they sell meets relevant standards and is electrically safe. Documentary evidence of compliance is required and may optionally be uploaded to the national database when registered. |
| | North America | Canadian Standards Association (CSA) is a provider of product testing and certification services. The CSA mark indicates that a product has been tested to a Canadian or U.S. standard. |
| | Mexico | Norma Oficial Mexicana (NOM). A NOM Certificate of compliance is required on all electrical goods imported into Mexico. A NOM certificate requires a test report accepted by the Mexican safety agency NYCE. |
| | USA | Underwriters Laboratories (UL) is an American safety consulting and certification organisation. UL is approved to perform safety testing by the US federal safety agency OSHA. A UL Listed logo indicates that UL has tested samples of a product and it meets UL's requirements. |
| | Japan | PSE is a mandatory third-party conformity assessment for electrical products imported or domestically manufactured in Japan. Electrical appliances are subject to conformity testing by an assessment body in order to receive a certificate. The labelling requires the PSE logo, the name of an importer, and the name of conformity assessment body. |
| | Germany | Geprüfte Sicherheit (GS) is a voluntary certification mark that indicates a product has been tested and certified for electrical safety by an approved independent body and that it complies with the minimum requirements of the German Product Safety Act. In this case the product has been tested by TÜV. |
| | Poland | A B-certificate is mandatory for the importation of electrical goods into Poland. Product documentation and a test sample must be submitted to the certification body PCBC, before a certificate and authorisation to use the B mark is given. |
| | Czech Republic | The Electrotechnical Testing Institute (EZÚ) is a recognised certification body in the Czech Republic. Certificates are awarded to products that pass a type test in accordance with the technical standards for electrical safety. EZÚ approval is non-mandatory. |
| | Slovakia | Unlike the similar EZÚ certificate, EVPÚ approval is mandatory in Slovakia. Electrical products must be tested and product documentation must be submitted to the EVPÚ for approval before certificate are awarded. |
| | USA | A notable omission from the logos on this charger is the Federal Communications Commission (FCC) mark. FCC regulations apply to electrical and electronic products that may produce radio frequency pollution that are manufactured or sold in the United States. For products that are intentional radiators, such as bluetooth devices, product testing and certification is required by an approved test laboratory. For other product, such as a laptop charger, a Declaration of Conformity can be made in a similar way to a CE Declaration of Conformity. |